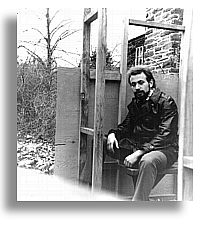 I graduated High School in January 1964. While I awaited my college acceptances I worked as a packer of hardware at a South Wabash warehouse in Chicago. By summer I was accepted to Carnegie Tech, but my father was a poor tailor, and my lack funds made it impossible for me to attend. Thankfully, I won a full-tuition National Scholastic Scholarship Award to Tyler School of Art in Philadelphia. Immersed in art, I found Tyler to be an amazing dream come true. (I also played on the Temple Soccer Team, but in my senior year I was kicked off the team for refusing to shave my beard. Hey, it was 1967).

At that time Tyler had an almost Renaissance curriculum, with exposure to the full gamut of media and techniques, experimentation and creative development. My teacher and friend, Carl Fernbach-Flarsheim, was my guide and profound influence. Other teachers at Tyler who expanded my horizons included Rudy Staffel, Stanley Lechtzin, Romas Viesulas, Schilly Mayer, Roger Anliker, Stanislaw Zagórski, David Pease and, importantly, Richard Callner and Warrington Colescott, at the Tyler School in Rome. It was Callner who noticed my rather sensually graphic doodles and encouraged me to shift my painting from the "Faux Renaissance" style I was seeking to achieve. The joy of love and lust in my new "Organic" works gained me acceptance into graduate studies at the University of Wisconsin, Madison.

In the spring of 1968, just before I graduated, my father was diagnosed with Lou Gehrig's disease. Despite the failing strength and dexterity of his hands, my father sewed my graduation suit. It was a bold robins-egg blue. His illness showed in the ill fit, crooked seams and crooked buttonholes and pockets. I wore it with pride.